SAIK GUN
Cabinet for weapons
This is a cabinet designed to store handguns and two magazines. In this solution, a specific weapon is deposited in an assigned cache.
Each locker is equipped with:
an optical sensor that determines whether the weapon is in the cache
weight, which compares the weight of weapons and magazines to their weight before collecting; this makes it possible to determine whether the number of cartridges is the same
an RFID antenna that acts as a sensor and reads the number encrypted in the card; this solution makes it possible to determine whether the returned weapon is the same one that was retrieved
sensors of detachment from the wall and opening of lockers trigger an alarm
All data regarding the person, date, time of collection of weapons and weight at collection and return are recorded. This solution allows you to check at any time whether there are enough cartridges in the magazine, and if not, when the weapon was used.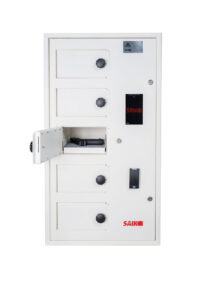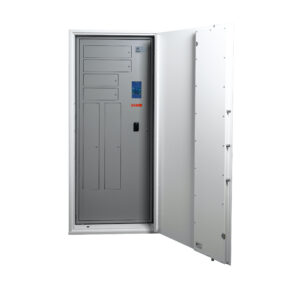 SAIK GUN S1 depositor sufficient when the RC2 standard is not required
SAIK GUN RC2 is manufactured in accordance with the RC2 – PN-EN 1627:2012 standard – this guarantees the safety of stored weapons.